Lessons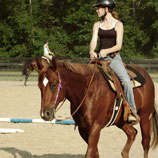 Lessons begin with a safety explanation about horses and the facilities. Safety, riding and having fun are the goals for the Rattle Run Farms program. Lessons include grooming, tacking, riding and untacking of the horses.
Riders start out in a western saddle for safety and security. As their riding skills develop, at the discretion of the instructor, there are opportunities for other riding disciplines. Other discipines may include English, Bareback, Trail Riding, etc. Included with the riding lesson, is general horse information, horse care, horse behavior and stable management. We want our student to learn good horsemanship skills and feel competent around all horses.
Cost & Registration Information
Lesson slots will be filled bases upon the rider's suitability for a particular class. We will group lessons according to age, riding skills and availability of horses. Minimum age of riders is 5 years old - evaluated by instructor. Style of riding and level of rider determined by instructor.
Lessons will be rescheduled only if the instructor has a conflict. If a rider is unable to attend a lesson, that lesson will not be rescheduled or reimbursed.
Lesson Fees
Please see Lesson Schedule for fees. Fees depend on each session.
Lessons must be paid in full at the first lesson and are non-refundable.
Registration Packet
All Riders must fill out this packet in order to ride in Rattle Run Farms Riding Lessons.
Additional Information
PDF file - you will need the free Adobe Reader (or equivalent) to view. Download here.
Rattle Run Farms Rattle Run Farms – 7103 Gratiot Ave. St. Clair, MI 48079 – (810) 367-6471